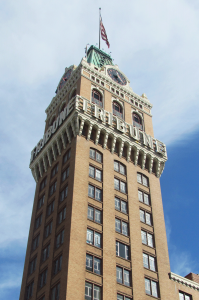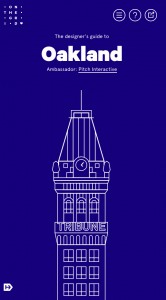 Pitch put Oakland On the Grid Monday. By grid, we literally mean "On the Grid" (OTG), an international guide of designers' neighborhoods. It's an ongoing project by Hyperakt, a Brooklyn-based design agency, to help people "travel the world through the eyes of creatives". We saw OTG as a chance to represent Oakland and gain a deeper knowledge of its unique attractive offerings. Also, the position comes with the title "Ambassador". Hard to resist, no? Being an Ambassador comes with a few responsibilities. We had to select which neighborhoods to include in Oakland's guide. Next, we asked creative agencies to represent each neighborhood. They have the role of curating spots and writing reviews. Finally, we picked one of the neighborhoods to curate. Loyalty trumped novelty and we chose our backyard, Downtown Oakland/Old Oakland. 
We quickly filled our list with restaurants and bars, many from recent memory. (We tend to share lunch and happy hour more often than fitness and shopping dates.) To fill out the selection, we did some research online and through another handy guidebook, This is Oakland. From there, the physical "work" began.
We ate lunch out, took photos, met owners, sipped drinks and took more photos. We browsed, roamed and conversed. We awkwardly staged plates and discovered Adam's knack for hand modeling. We devised a pitch (imagine!) and were up-front about our cause. And now, we're excited to share our exploration with you.
You can peruse
our section
, along with dozens of other cities' on the
OTG site
. Check back
 to see other Oakland entries soon!