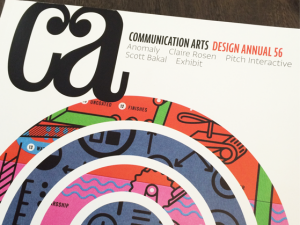 We're super excited about the latest Communication Arts 56th Design Annual featuring our studio's piece entitled Pitch Interactive the Art of Data. 
We anxiously awaited to see what CommArts' take on our team would be after hanging out with us for a day in our studio in March 2015, so we applaud and appreciate how well they captured our culture and team dynamics. We are honored to share our projects and company story on 8-pages of their magazine and to be credited with being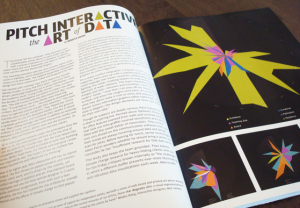 masters of the Art of Data. Ok, maybe they didn't call us masters, but we're pretty thrilled regardless! Big thanks to Communication Arts and Jessica Huval for the wonderful write up and opportunity to be featured.
Pick up a copy to get a peek into our studio and team. In the mean-time check out some of our favorite quotes from the feature that we feel represent the core of who we are at Pitch Interactive: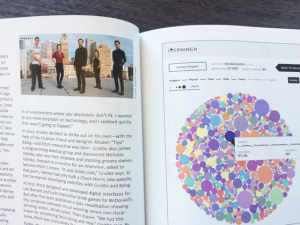 The firm thrives on passion projects and mission driven client work, and it's driven by the volatile, yet fruitful marriage of statistics and art.
Grubbs likes to tell his team that statistics are human stories that have been digitized.
"It's our job to re-humanize it," he says.
The team's warmth and joyous geekiness have charmed its clients.
They snicker over GIFS shared on the communication software Slack, but their minds are always hovering around data and design even for jokes. Adam Florin wonders whether he should bring a jacket, but concludes he has, "insufficient research for that data point."